Minnesota's North Shore is a hidden gem, offering stunning vistas, picturesque hiking trails, and, of course, beautiful beaches. Nestled along the shores of Lake Superior, the world's largest freshwater lake, this region boasts a collection of serene and captivating beaches that are perfect for a relaxing getaway. In this blog post, we'll explore five must-visit North Shore beaches: Brighton Beach, Park Point Beach, Iona's Beach, Black Beach, and Split Rock Beach. Whether you're a nature lover, an adventure seeker, or simply looking to unwind, these beaches offer something for everyone.
Park Point Beach
Situated at the world's longest freshwater sandbar, Park Point Beach offers a slice of paradise near Duluth. This expansive beach stretches for miles, providing plenty of room to relax, play beach volleyball, or fly a kite. The warm water and gentle waves make it perfect for swimming, and lifeguards are on duty during the summer months. Don't forget to explore the nearby Park Point Nature Reserve, which offers hiking trails and bird-watching opportunities.
Iona's Beach
Tucked away in a secluded cove, Iona's Beach is a hidden treasure that promises tranquility and natural beauty. This beach boasts a pristine shoreline with colorful pink pebbles, making it a paradise for beachcombers. With its calm waters, it's also a great spot for kayaking and paddle boarding. As you relax on the beach, soak in the awe-inspiring views of the surrounding cliffs and the rhythmic sounds of the waves crashing against the shore.
Black Beach
For a unique and dramatic beach experience, head to Black Beach, located in Silver Bay. As its name suggests, this beach features striking black sand and impressive basalt rock formations, creating an otherworldly atmosphere. The powerful waves crashing against the cliffs provide a mesmerizing sight. The beach is perfect for a peaceful stroll, photography, or simply basking in the awe-inspiring scenery.
Split Rock Beach
No visit to the North Shore would be complete without a stop at Split Rock Beach, adjacent to the iconic Split Rock Lighthouse. This beautiful pebble beach offers breathtaking views of the lighthouse, perched atop a rocky cliff. Take a dip in the cool waters, explore the fascinating rock formations, or have a picnic while enjoying the stunning surroundings. As you walk along the beach, you'll be captivated by the picturesque landscapes that have inspired countless artists and photographers.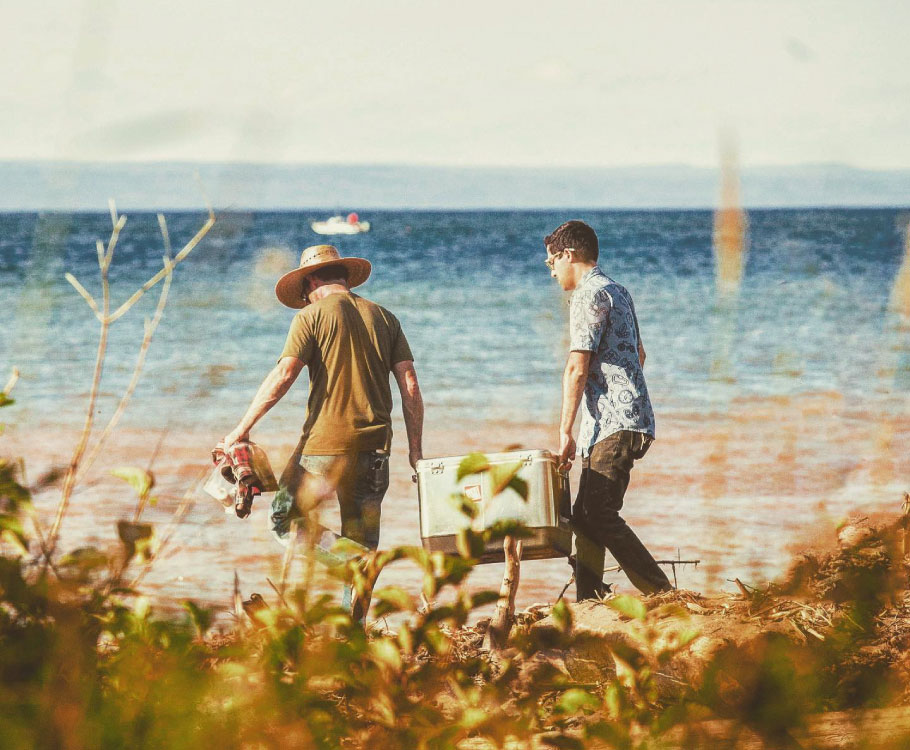 Brighton Beach
Located just minutes from downtown Duluth, Brighton Beach is a serene escape with breathtaking views. This family-friendly beach is a favorite among locals. Take a leisurely stroll along the lake walk, enjoy a picnic in the grassy area, or dip your toes in the lake. The nearby playground and picnic tables make it an ideal spot for a day of family fun.
Minnesota's North Shore is a haven for nature enthusiasts and beach lovers alike. Each of Bent Paddle's 5 year round beers features one of the iconic North Shore Beaches. The key ingredient to all of our beers is clean and pristine Lake Superior waters and this is just one of the ways that we want to pay tribute to the lake. Next time you're at a liquor store, pick up a 6 pack of Bent Paddle beer and find the geocode on the box to start your next North Shore adventure.